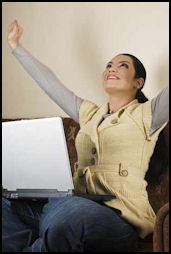 Thinking of opening your own website? Shabby Lane Shops is the one stop spot for all of your website needs. No longer are you on your own trying to figure out what to do next in order to open the online business you have always dreamed about. From the very first steps of getting started to the way your website looks, to hosting your site and even marketing your products and services, now you can have it all in one place. No more dealing with strangers, the Shabby Lane Shops family prides itself on it's friendly relationship with all of our clients whether you need technical support or just advice on some simple methods to getting your site noticed.

Let's face it - for beginners the terms CMS or Content Management System mean nothing. But if we tell you that if you can write an email you can run your own website then that makes sense. Our software on Shabby Lane Shops Hosting is perfect for work at home moms and dads, students - young and old alike, the small business owners, and the artists and dreamers with an entrepreneurial spirit who need something quick and simple but offers the bells and whistles necessary to make having an online business a snap.

Our packages come with a FREE shopping cart which means you can accept and receive payments online, track inventory, generate sales reports and keep your customers aware of the status of their order. There is NO HTML NEEDED with our WYSIWYG (What You See Is What You Get) editor to maintain your website or list products. Orders are processed and payments collected in one smooth process and you will be notified immediately of any sales that you have. Our software has a built in system for Search Engine Optimization with easy instructions on how you can accomplish this yourself.We take the guesswork out of having your own e-commerce business and our excellent customer service reps are here to answer any questions you have at any time - no matter how small.

Whether you are a beginner or have been online for a while Shabby Lane Shops Hosting has an affordable hosting plan for you. We even offer discounts on hosting if you have more then one website. Whether you need a lot of help or just a little we are here for you! All of our plans come with a FREE shopping cart using Mals-e. An easy to use Shopping Cart where you can set up the types of payments you accept, your shipping calculations and automatic notifications and receipt of orders, etc. If your site is strictly informational and does not sell products online then that's ok too. Click on the banner to visit Shabby Lane Shops Hosting and start your online business today!

Web & Print Design

Advertise Your Web Business

Shabby Lane Shops also offers an in house design team standing by to design a website uniquely yours. Our Content Management Software comes with 32 FREE templates that you can choose to start with if you like but most people prefer a design unique to their site. We can custom design a website template for you using your ideas or you can choose from our One-of-a-Kind Designs that are ready to go. For those on a tighter budget we have Limited Edition Designs that are sold up to six times. Free installation and set up of your template is included when you purchase a design from our site and host with us or one of the other compatible hosting sites we work with.

Shabby Lane Shops specializes in uniquely romantic website design templates utilizing vintage graphics, buttons, jewelry, textiles, papers and old photographs as well as original drawings and illustrations. Whether your style is Victorian, Romantic Cottage, French, Shabby Chic, Girly, Vintage, Retro, Feminine or Modern we can help you with your design needs. We also do Scrapbook style designs, Altered Art styles and e-boutique styles like Shop and Storefront designs. As well as website templates we can design your ebay store, Me page, auction templates and blog designs. We can also work directly with you and your artwork in creating your website design around your own original artwork in order to draw your customers into "your world" when visiting your website.

As well as custom web site design Shabby Lane Shops offers design and printing services for business cards, notepads, brochures, pamphlets, postcards, product hang tags, and custom services so whether you need a little help or a lot Shabby Lane Shops is here to serve you. You can be assured that whether you are new to the internet or have past experience that Shabby Lane Shops will help you get your store set up - holding your hand all the way if necessary - so that you are not having to struggle and "guess" what to do next - we don't just design your store "look" and then just disappear - we are really here to help you all the way.

Once you have your site set up then be sure to check out our Shabby Lane Shops online mall - the premier online mall site to market your business. Shabby Lane Shops advertises in major magazines as well as publishing it's own magazine which is available in over 300 locations. Participation in shows and tv appearances create abundant exposure as well as featuring it's very own Auction Site for members.

No doubt about it Shabby Lane Shops gives you the most bang for your buck for your advertising dollars. Free downloads of products like postcards and recipes as well as multiple contests will keep your regular customers coming back while attracting more new customers every day. Check out the benefits of becoming a Shabby Lane Shops member here to enjoy our internet marketing services. Sign up for hosting with Shabby Lane Shops Hosting and receive a free mention in Shabby Lane Shops Customer Newsletter. To see the full list of Shabby Lane Shops Membership Benefits CLICK HERE.








So join our family here at Shabby Lane Shops and let us help you with all phases of your small business needs - all under one roof!